Choosing The Perfect Stain Color For Your Wood Floors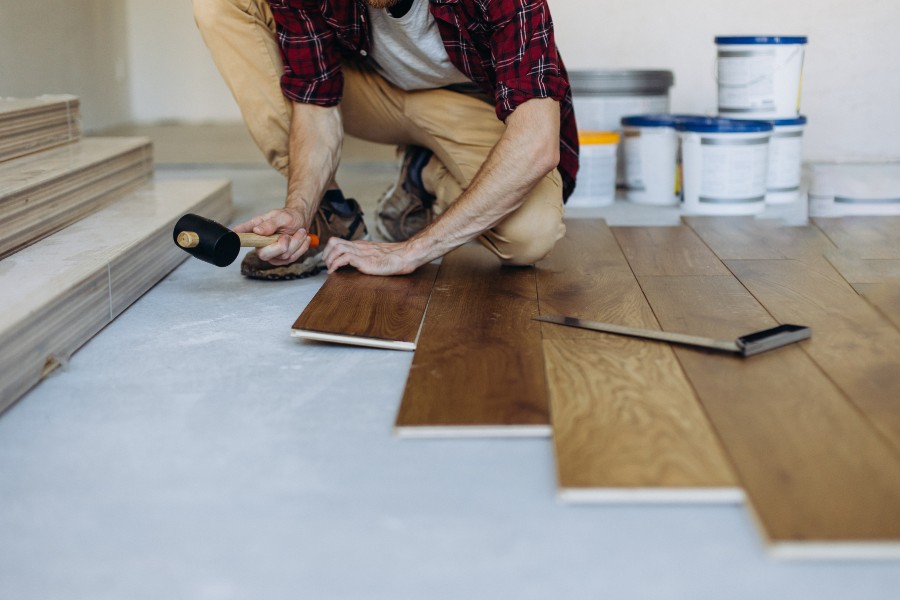 Introduction
Selecting the perfect stain color for your wood floors can have a dramatic effect on your interior design, but the array of options may seem overwhelming. To make the decision easier, consider your room size, lighting, wood species, and existing décor. In this article, we'll explore the area of choosing the ideal stain color for your wood floors.
Your Design Aesthetic
This is a crucial starting point when selecting a stain color. Different stain colors can evoke various moods and styles. Here are some popular design aesthetics and the stain colors that work best with them:
Traditional – Classic stains like oak, cherry, or mahogany add warmth to traditional interiors.
Modern – Lighter stain colors such as natural, gray, or white create a more contemporary feel.
Rustic – Darker tones like chestnut or walnut can enhance the rustic charm of reclaimed or distressed wood floors.
Transitional – Medium tones like honey or pecan offer a balance between traditional and contemporary styles.
Room Size and Lighting
The size of the room and the amount of natural light it receives should also influence your stain color choice. Lighter stain colors tend to make a room feel more spacious and open, making them ideal for smaller spaces or rooms with limited natural light. Darker stain colors can create a cozy atmosphere but can make a small room seem even smaller.
Determine What Type of Wood You're Working With
The type of wood you have plays an important role in selecting the right stain color. Different wood species absorb stains differently, resulting in variations in colors and shades. Walnut, maple, or cherry are naturally beautiful but don't absorb stains as well as other varieties. These woods are more suited to natural finishes. Oak is known for having strong grain patterns, takes stains well, and can be stained in a range of colors from light to dark.
Test Sample Stains
Before committing to a particular stain color, it's highly recommended that you test samples on your wood floor. Stain colors can look different in different lighting conditions and on various wood species. Apply small samples of your chosen stain colors to inconspicuous areas or on spare wood pieces to see how they might look in your home. Testing samples allows you to visualize the stain's final appearance and make any necessary adjustments, and it can help you make sure that you'll be satisfied with the final result.
Match with Your Existing Décor
Your wood floor stain should complement your existing décor and furnishings. Consider the colors of your walls, furniture, and accessories when choosing a stain color. Some wood species have natural undertones that may affect the final appearance of the stains. Make sure that the stain color you're considering doesn't clash with the undertones in your wood species.
Consider Maintenance and Wear
Think about the practical aspects of your wood floors when choosing a stain color. Lighter stains may show less wear and tear, scratches, and dirt, making them a practical choice for high-traffic areas. Darker stains can mask imperfections but may require more frequent maintenance to keep them looking their best.
Conclusion
Selecting the perfect stain color for your wood floors is a decision that can significantly impact your home's aesthetics and ambiance. By considering your design choices, room size, lighting, wood species, and practicality, you can confidently choose a stain color that enhances the natural beauty of your wood floors and complements the rest of your home. Remember to test samples to make sure you're going to be happy with the end results.
Seek Professional Advice
If you're still uncertain about choosing the right stain color for your wood floors, don't hesitate to seek advice from the experts here at Mans Lumber & Millwork. We can provide insights and recommendations that help you choose wisely. We are a custom millwork shop offering premium moldings and lumber. Since 1900, the Mans family has served the lumber and building material needs of the Metro Detroit and Ann Arbor communities. Over 100 years later, we continue to operate our company with a customer centered focus. Our employees undergo continuous training and education to ensure that our customers have access to the latest product information and building techniques. With locations in Trenton, Canton, Birmingham, and Ann Arbor, we concentrate on providing quality building materials and outstanding customer service. If you would like more information about the products and services we offer, visit our website, give us a call at 734-237-7914, or drop by any of our four locations. We look forward to serving you!