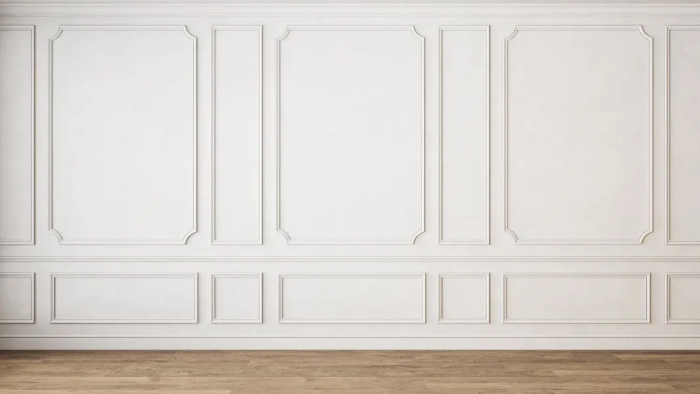 Moulding is a great way to give your rooms a touch of sophistication and dimension. But your wall trim has to suit the style of the room, and your home. And if you're new to this topic, the choices out there can be a bit overwhelming. Here's a brief guide to wall trim, and how to choose the right moulding.
Why Use Trim At All?
Most homes have some amount of wall trim. This is not just done for aesthetic reasons. Moulding that covers up transitions between the wall or the ceiling helps to keep dirt, hair and moisture from infiltrating your inner walls and subfloors. They can also keep insects from entering your home's interior spaces.
Here are the most common examples of mouldings and trim:
Baseboards
Baseboards are much as the name implies — flat boards that run horizontally along the base of the wall. The top of the piece has a decorative flourish, and there's usually a rounded piece at the bottom that juts outward. This is usually applied separately. If it looks like one quarter of a round dowel, it's called quarter round. If it looks like it's more flattened against the baseboard, it's called shoe mould. Baseboard and the round bottom mould are usually painted white but you can also choose a wood grain that matches your flooring.
Crown Moulding
Crown moulding is the trim at the top of the wall that covers the joint of the wall and the ceiling. It makes rooms more finished and a bit taller. It's often white, with an elegant contour reminiscent of classical architecture, but many more ornate designs are available.
Casing
Casing is the wood trim that covers gaps between your drywall and a doorway or window frame. One way to remember is that it encases the inside edge of your doorways.
Handrails
Every stairway needs handrails. (In Great Britain these are known as banisters.) Interior handrails are usually made of decorative wood. They can be attached to the wall or rest upon a series of vertical beams called balusters. They usually have a smoothly rounded top with some slight flourish on the bottom.
The following pieces are a bit less common:
Chair Rails
A chair rail is a piece of horizontal trim that is usually found in dining rooms, installed at a proper height to protect the wall from scuffs from the backs of chairs. It can also be used as a transition piece if wallpaper is used on the upper section of the wall.
Picture Rails
More common in older homes, picture rails are long skinny horizontal boards you can hang art from.
Cove Mouldings
Cove mouldings are crown mouldings with a more concave design for a subtle but eye-pleasing interior trim.
Wainscoting
In rooms with a chair rail, the area below the trim may be white wood paneling, while the above area is wallpapered or painted a different color. The white area may also have decorative trim pieces in rectangular patterns. This breaks up the room's color palette, but the wood paneling can also serve a practical function in a dining room or bathroom, as the wood paneling is more durable than drywall or wallpaper. This is called wainscoting. While the classic look of the lower section is white, other options are available, of course. It could retain the color of the upper section but white white rectangular trim. There are also a wide variety of paneling designs and textures available.
Other options for wood trim and mouldings include stylish fireplace mantels, floating mantels, and enhanced trim at the top and bottom of support columns.
As the leader in decorative moulding and trim, you can be confident that our team has experience installing any type of moulding or trim in your home. Our team of experienced carpenters has the tools and knowledge to install moulding throughout your home to create seamless transitions and beautiful accent pieces that add a luxury and class to your home. If you want to improve the look of your home without breaking the bank, moulding might be the right choice. Whether you're building new or renovating, our team can help you choose the right moulding or trim for your project.
Since 1900, the Mans family has served the lumber and building material needs of the Metro Detroit and Ann Arbor communities. Nicholas August Mans began selling coal and peat in the Downriver community of Trenton, Michigan. His business quickly expanded throughout Southeast Michigan, eventually including four lumberyards, two kitchen and bath design showrooms, floor coverings, kitchen flooring, a finished carpentry and millwork shop and an installed products division.
The Mans family continues to operate Mans Lumber and Millwork with the same customer-centered values on which N.A. Mans built his business. Mans employees undergo continuous education and training to ensure that customers have access to the latest product information and building techniques.