Can We Build A Deck Directly On The Ground?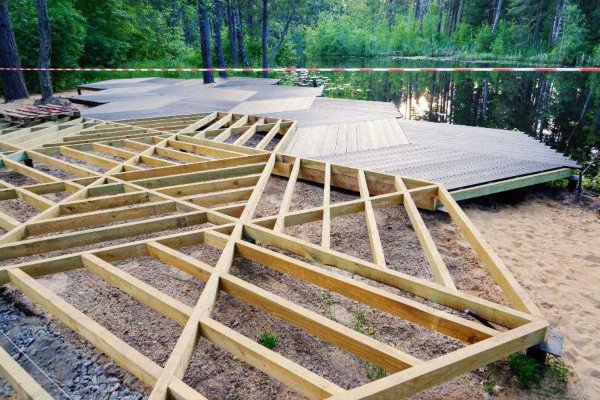 If you'd like to add a deck to your home, there are many different designs and materials to choose from. Although most decks are built a few inches or a few feet off the ground, it's possible to build your new deck directly on the ground. There are however, some special considerations when building directly on the ground.
Check Building Codes
One of the first steps would be to check with your local governmental authority to see if there are any special restrictions concerning building a deck in such a manner. Some building codes will specify how close to the ground you can build or if building directly on the ground is even allowed. Based on the size and design of the deck that you want, you may or may not need a building permit.
Choose your Design
When planning your deck, consider whether you'll need to include steps up to the deck or down to the ground. If you're going to attach the deck to your house, make sure you'll have sufficient door clearance leading out to the deck.
Choose Your Materials
Direct contact with the ground accelerates the deterioration of natural wood. Standard pressure treated wood won't usually work in this situation, so you'll need to use wood that is especially designed to be in contact with the ground.
Another option to using natural wood would be to use composite materials. Composite wood is made from natural wood fibers combined with PVC plastic and is manufactured to look like natural wood. This material isn't prone to rotting, warping, swelling, drying, or splitting like real wood.
Prepare the Site
Inspect the area where you want to install the deck. Make sure that the ground under the deck slopes slightly for drainage of rain water. It's also a good idea to make sure that the deck is well ventilated, as this will help it to last longer.
Need Help?
If you'd like assistance with choosing the right materials, design, or techniques for your new deck, check with the experts at Mans Lumber & Home.
Mans Lumber & Home is a custom millwork shop offering premium moldings and lumber, kitchen and bathroom design, and more. Since 1900, the Mans family has served the lumber and building material needs of the Metro Detroit and Ann Arbor communities. Over 100 years later, we continue to operate our company with a customer centered focus. Our employees undergo continuous training and education to ensure that our customers have access to the latest product information and building techniques. With locations in Trenton, Canton, Birmingham, and Ann Arbor, we concentrate on providing quality building materials and outstanding customer service. If you would like more information about the products and services we offer, visit our website, give us a call at 734-237-7914, or drop by any of our four locations. We look forward to serving you!